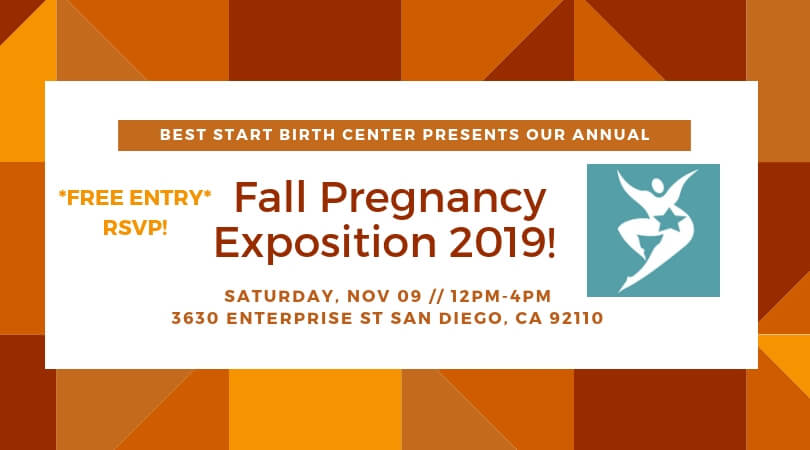 2019 Pregnancy Expo at Best Start Birth Center! November 9th from 12PM – 4PM.
This FREE event will include awesome vendors, food + drinks, kids
classes, meet the midwife, tours of the facility, and much more! You don't have to be pregnant to attend the
event, it's open to the entire community!
Come learn all there is to know about natural birth at Best Start Fall Pregnancy Expo! Best Start is a licensed and nationally accredited freestanding birth center. Best Start Birth Center is California's Premier State Licensed and Nationally Accredited Birth Center. Best Start has been offering natural birth to San Diego family's since 1989; 30 years and thousands of Best Start Babies!!!
Did you know that Best Start Birth Center offers more than prenatal, birth and postpartum care? Best Start also offers Well Woman GYN Care, Breastfeeding Support, Childbirth Education Classes, and Postpartum Support Groups. In addition, Best Start is the only licensed freestanding birth center in the city of San Diego to offer WATERBIRTH. While Best Start does offer natural modaliites for birthing women, we pride ourselves on being "high touch, low tech". It is the natural comfort measures offered in labor that enhance a woman's birth experience naturally. If extra support is needed, Best Start offers the option of nitrous oxide to provide additional support in labor.
Come learn why San Diego families rave about their Best Start experience, and meet the midwives! "Your birth your way since 1989"