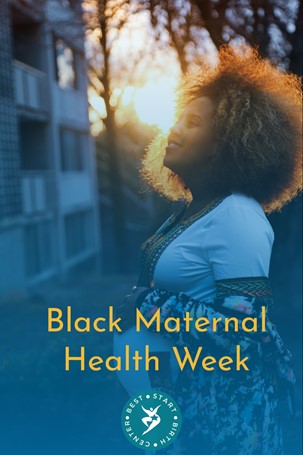 Black Maternal Health week is observed in order to call attention to the serious problem of poor maternal and infant outcomes for black mothers and infants in the United States. While US mothers and infants as a whole have one of the highest rates of morbidity and mortality in the developed world, the rate for African American mothers and babies is more than double. In a recent study, AABC partnered with CMS to explore how midwives and birth centers contribute to better outcomes. Researchers found that birth center care was associated with reductions in racial/ethnic disparities. Best Start was a model birth center for CMS Strong Start study.
According to the American Association of Birth Centers, "The midwifery model of care is based on the philosophy that birth is a natural part of life rather than a condition to be treated. The approach is holistic, wellness-based, and patient- and family-centered, using interventions only when medically necessary. Midwives provide extensive education and continuous, supportive care; for these reasons, midwifery care is generally more time-intensive than typical OB/GYN care". Let's consider an innovative approach to removing racial disparities and improving the care of African American women as well as all women in the US.
Midwives and their clientele form a team for the purpose of preventing pregnancy related problems and increasing the probability for a normal birth. The mother's emotions are at least on par with the physical aspects of her pregnancy. Best Start client birth stories speak for themselves. The accredited birth center is a space that respects the individualization of care and the inclusion of loved ones as desired by the woman. This individual and inclusive practice is empowering to the client and her loved ones and provides a satisfying experience that improves maternal and family health for a lifetime.
Speaking of equity! Did you know that in California, Medi-Cal reimburses midwives and alternative birthing centers (ABCs), such at Best Start Birth Center, 10% less than physicians and hospitals? It is illogical that California is further reducing the already low reimbursement for caring for the Medi-Cal population, when this same population benefits most from the excellent outcomes exhibited by midwives and alternative birthing centers. As a result of AB97 passed in 2011, a 10% reduction in Medi-Cal payments was applied to providers and facilities. While physicians and hospitals saw this reduction reversed in 2017, midwives and alternative birthing centers remain under the 10% reduction. Medi-Cal members are entitled to midwifery care in alternative birthing centers. Together we can work to transform healthcare for all women and babies in California. Please contact your local representative and communicate your support of midwifery and alternative birthing centers by reversing the 10% sequester applied to midwives and alternative birthing centers (ABCs).