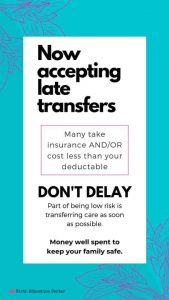 April 2020
As the coronavirus (COVID-19) pandemic continues to evolve, we want to take a moment to reach out to the moms who were not originally considering an out of hospital birth, but are now starting to consider a birth center as a potential option. We know how scary it can be to think about switching providers this late in pregnancy and we want you to know that we are available to answer any of your questions: 619-299-0840
At Best Start Birth Center,  we host about 225 families per year during their birth journey. San Diego's hospital with the biggest volume of births sees nearly 9000 births per year. It makes sense that less births equates to less chance of virus and disease transmission. "As coronavirus outbreaks emerge throughout the US, with no clear sign of slowing down, let alone stopping, women like Judson and their families are rethinking what it will mean to deliver a baby in what could be "the height of a global health crisis," as Judson said."
We feel it is important to share the steps we are taking to help keep you, our staff and the San Diego community safe and healthy:
We remain open for clinic and birth, and are cleaning and sanitizing daily as part of our normal course of business. As a precautionary measure, we have added enhanced cleaning and disinfecting of key touch areas, including our door knobs, handles and light switches.
Our staff is monitoring information from the Center for Disease Control and Prevention (CDC) and from various federal, state and local agencies to ensure the actions we are taking are in line with the latest recommendations and guidance.
We have provided our staff with preventative information they need to stay healthy and ask them to stay home if they are ill or not feeling well. We have also advised our staff to replace handshakes and hugs with smiles and fist bumps to avoid unnecessary contact. We encourage you to wash your hands frequently use hand sanitizer.
For the latest information on coronavirus (COVID-19), including preparedness tips and other resources, please visit the Centers for Disease Control and Prevention website at govand the County of San Diego Health Department website at sandiegocounty.gov/coronavirus.
As your Birth Center, maintaining your trust and providing midwifery services at all times is our top priority; We will keep Best Start Birth Center families safe and well-informed, while continuing to work hard to provide you with the level of personal service you expect.
Our hearts go out to all those impacted by the coronavirus. We will continue to closely monitor the situation and keep you informed of any changes that may impact you.
Sincerely,
Shari Stone-Ulrich, CNM
Clinical Director