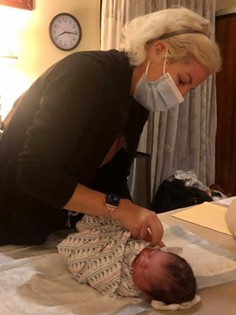 When you come to Best Start, we're confident you'll get the best care, but don't just take our word for it — we have the licensure and accreditation to back us up.
Best Start is California's very first nationally accredited and licensed birth center. What exactly does that mean? That we have highly qualified providers, superb outcomes, and provide excellent care to all of our clients.
Being a state-licensed birth center means that Best Start meets all of the requirements to safely and legally operate as a freestanding birth center. From guidelines on staffing to procedures and the services we provide, Best Start is recognized by the state of California as a safe, quality option for gynecological and birth care
Being accredited by The Commission for the Accreditation of Birth Centers shows that Best Start goes beyond just meeting the basic requirements it takes to be licensed to operate — we excel. From verifying all of our Midwives' credentials and ongoing education to keeping up with evidence-based guidelines for care, Best Start participates in processes to consistently maintain its accreditation.
For our clients, our accreditation is an assurance of our quality and professionalism. This assurance is also highly appealing to insurance companies because it shows our willingness to meet both state licensure and national accreditation criteria necessary to ensure a safe alternative to hospital birth.
Maintaining accreditation helps us gain contracts with payers as it shows Best Start can be relied on to consistently provide care that exceeds standard expectations. Being state licensed and nationally accredited helps us secure contracts and enable Best Start to be contracted IN-NETWORK for both our facility and our professional services.
Thanks to our multi-decade history of being a licensed and accredited birth center, Best Start has secured contracts with many private commercial insurance plans, Medi-Cal (Best Start is a Certified CPSP (California Perinatal Services Program) provider, TRICARE, and we are excited to soon finalize our contract with TriWest Veterans Administration.
Maintaining state licensure, national accreditation and insurance contracts ultimately helps us continue to work towards our ultimate goal of ensuring all birthing people have access to satisfying experiences and we are committed to growing our list of accepted insurances. Please let your employer know you want access to alternative freestanding birth center care if you do not already have this access available to you.