Prior to delivery I was using cramp bark as a supplement to try and slow down my contractions for over a month. We were approximately 10 minutes apart for a week before my 37th week. In my 37th week I ended up 5 minutes apart, with a 2cm dilation, and then 3 minutes apart with the same 2cm dilation. I was in massive amounts of pain in my abdomen, with no idea why.
Eventually we figured out that my daughter was sunny side up, and was using her arms and legs to push on my sides because of her position, and the excessive contractions were my body's way of trying to move her. After many spinning babies exercises, we were able to move her into the correct position and I was provided with so much relief.
On Saturday, which was my 37th week, 5th day, I went into labor at 9pm and labored at home until about 11:30pm. At that point I looked at my husband and said "If this isn't labor, we need to go to the hospital." He contacted my doula and my mom and, after speaking with the midwife on call, we all made our way down to the Best Start Birth Center which is an hour away from us.
Upon arrival at about 1:30am we were 4cm dilated, but contractions were 1 minute and 30 seconds apart, lasting a minute each time. Anne (younger Anne) was nice enough run me a bath even though we were only at 4cm. After getting in the tub, I labored in a lowered squat position from 2am-3:45am. I loved having my music there, having the warmth in the room, and the comfort from those that I trust the most. Toward the end of laboring in this position I began feeling like I didn't have control of my body; as if it was pushing her down (and anything else out) whether I was participating or not. I told Anne that my body was pushing involuntarily, and she called her assistant right away. Right after this, I turned upside down, and decided to float in the water.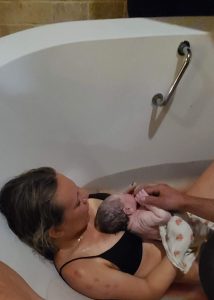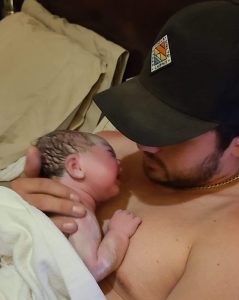 My mom held the back of my head, to keep me steady. I placed my elbows on the bottom of the tub, and my hands on the back sides of my hips, and used this to bounce my body lightly so that I wouldn't feel stagnant. After 30 minutes of laboring in this position and deep breathing in a way that sounded more like a vibration than a voice, my husband was able to catch our daughter and place her on my chest.
After 5 minutes, he cut what was a surprisingly short umbilical chord, and she got to lay with her daddy for the first time. She was born at 4:14am on 4/24! I experienced a postpartum hemorrhage, and ended up needing stitches, which was the only thing I was medicated for. I am so grateful that I was able to be of sound mind for that first moment with my daughter. As it turned out, I also had a second sac in my placenta, which had never been noticed during the pregnancy; which they showed me on my lap as I held my daughter!
A very cool experience to see an organ that was just inside of you, outside your body. After 6 hours, a few snacks and lots of liquids, we got to take our baby girl, Sage, home with us. We are now 5 days postpartum, my milk has come in hard, I finally pooped yesterday lol, and Sage is doing wonderfully.
I apologize for all the detail, but you and the group were such a part of this journey for us, and I was excited to share!
-Kristyna