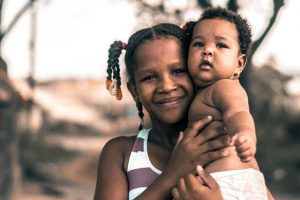 The Momnibus Act has officially been passed!
This legislature is in response to the Black Maternal Mortality Crisis and includes funding to expand Medi-Cal coverage and address inequities in birth care and outcomes.
The author of this bill, Senator Nancy Skinner, calls attention to the great need for Momnibus explaining, "Despite our medical advances, more babies and mothers die during birth in the U.S. than in all other high-income countries, and these preventable deaths are disproportionately higher for Black families."
There is not a pathological reason behind more Black mothers dying. There is not a physiological difference between the way Black mothers and other mothers carry or birth a baby. The inequity lies in the system in the form of racism, bias, and inadequate access to appropriate care, calling for a systemic change.
Momnibus specifically includes funding to "grow and diversify" the field of perinatal care which includes expanding Medi-Cal coverage of doulas, which is an exciting first.  This gives more pregnant people access to birth support beyond what is available in the basic clinical setting, which may help make births more satisfying and individualized.
The act also prioritizes improving research and investigation surrounding maternal and infant deaths to gain a better understanding of where and how the system is falling short for families of color. Furthering this research will hopefully lead to more change to better support families in the future.
While we celebrate the passage of Momnibus this month, we also remember that October is Breast Cancer Awareness Month. This year, more than 280,000 women will be diagnosed with breast cancer. Despite being diagnosed at a similar incidence, the mortality rate of breast cancer among Black women is disproportionately high compared to other racial groups. The cause of this is complex, including a mix of both biological and social factors.
Best Start reminds everyone to practice self-exams, call your provider if you ever feel a lump in your breasts, and keep up with preventative mammograms as recommended. Free and low-cost cancer screenings are available throughout the community, regardless of insurance status.