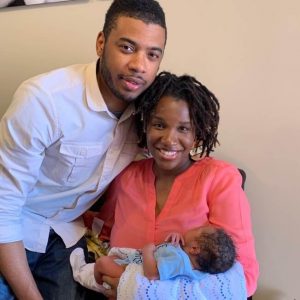 Black Maternal Health week is observed in order to call attention to the serious problem of poor maternal and infant outcomes for black mothers and infants in the United States.  While US mothers and infants as a whole have one of the highest rates of morbidity and mortality in the developed world, the rate for African American mothers and babies is double.
Blame is placed on institutional racism in the US healthcare system.  A major thrust is currently underway to uproot and remove racist practices.  Recommendations for physician and nurse training in schools and in hospitals are being promoted.  There is a lack of attention, however, to problems in the traditional care model (which is based on the discovery of pathology rather than a holistic model that focuses on the individual and promotes preventive care).
I recently attended a community town hall that was organized around Black Maternal Health week.  The attendees ranged from hospital administration to doulas and midwives.  The suggestions were heavily slanted towards medical staff training and the prenatal education for black mothers to self advocate and thereby make the existing system work better for them.  As the suggestions circled it became apparent that a whole new problem could develop in that maternity care would be even less individualized and could even look like maternal racial profiling.  Not at all what caregivers want to provide nor what black women want to experience.  And there was no mention of improving the fundamental model of medical maternity care.
I shared information with the group that is not widely known… that studies show no outcome disparity for African American mothers receiving their care in accredited birth centers.  In addition, overall outcomes were better for all birth center mothers and babies www.ncbi.nlm.nih.gov/pmc/articles/PMC5873276/. This is because the practice of the midwifery model of care is fundamental in accredited birth centers… evidence based and proven to reduce rates of prematurity, cesarean section, and low birth weight for all with parity for all.  This was totally new information for most of the attendees (except the doulas and the midwives).
According to the American Association of Birth Centers, "The midwifery model of care is based on the philosophy that birth is a natural part of life rather than a condition to be treated. The approach is holistic, wellness-based, and patient- and family-centered, using interventions only when medically necessary. Midwives provide extensive education and continuous, supportive care; for these reasons, midwifery care is generally more time-intensive than typical OB/GYN care" www.birthcenters.org/page/strong-start-national-report#types-of-care.
Midwives and their clientele form a team for the purpose of preventing pregnancy related problems and increasing the probability for a normal birth.  The mother's emotions are at least on par with the physical aspects of her pregnancy.  The accredited birth center is a space that respects the individualization of care and the inclusion of loved ones as desired by the woman. This individual and inclusive practice is empowering to the client and her loved ones and provides a satisfying experience that improves maternal and family health for a lifetime.
Let's consider an innovative approach to removing racial disparities and improving the care of African American women as well as all women in the US.  Let's implement the midwife model.
Midwives working in hospitals and traditional medical practices should be encouraged to practice the midwife model of care.
Accredited birth centers should be supported and encouraged to thrive. ACOG has designated birth centers as level 1 maternity care providers acog.org/Clinical-Guidance-and-Publications/Obstetric-Care-Consensus-Series/Levels-of-Maternal-Care?IsMobileSet=false. Proper utilization of accredited birth centers will help the system as a whole.
The healthcare system should look at the evidence and recognize the value of the midwife model of maternity care.
Political will to improve outcomes for African American women and women of all races should embrace the midwife model of care and the accredited birth center. Proven innovations.
Roberta Frank CNM