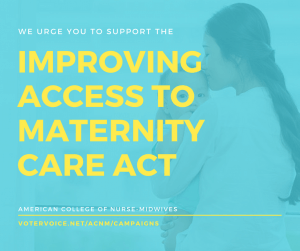 In honor of International Women's Day, please take a moment to weigh in with your Senators and encourage them to SUPPORT S.783  and Improve Access to Maternity Care in the United States.
The U.S. is one of just 13 countries around the globe – the only developed country – where the maternal mortality rate is increasing. One in five women in the U.S. live in healthcare provider shortage areas, which can lead to dangerous delays obtaining needed care during and following pregnancy and birth. We must work to improve this! Passage of S.783 is one mechanism to help alleviate the significant pressures on many rural and urban communities, health systems, and women in need of access to qualified maternity care providers. Women in the United States need access to midwives!
Rural and urban hospitals are closing maternity units every week so shortages are getting worse.1 in 5 women in the U.S. live in healthcare provider shortage areas and half of U.S. counties have NO maternity care providers. Urge Senators to Support S.783, a bipartisan, budget-neutral measure that would help address the shortage of maternity providers.
What does S. 783 accomplish?
Introduced in March 2017, by Senators Tammy Baldwin (D-WI) and Lisa Murkowski (R-AK), S.783 requires the Health Resources and Services Administration (HRSA) to collect and analyze data comparing the availability and need of maternity care health services. This data would be used to create a maternity health professional shortage area (HPSA) sub-designation for use by the National Health Service Corps (NHSC).
S. 783 would improve the geographic distribution of maternity care providers within existing HPSAs, including obstetrician-gynecologists (ob-gyns), certified nurse-midwives (CNMs), family practitioners, nurse practitioners, and physician assistants, to help alleviate provider shortages and allow providers to serve the growing number of women in the United States.
Why is passage of S. 783 essential?
Expanding access to maternity care professionals in rural and underserved areas would improve maternal outcomes and mortality rates. Statistics show that women who travel further for maternity services have worse birth outcomes, including higher rates of infant mortality and admission to the neonatal intensive care unit.[i]
S. 783 will enable maternity care providers already participating in the NHSC to be assigned to HPSAs with the greatest maternity care needs. Under current law, HRSA identifies HPSA designations for primary care, dental and behavioral health, but not for maternity care. Ob-gyns and CNMs serving in the NHSC are deployed to primary care sites, even if those areas do not have high maternity care needs.
When a community has been designated as a HPSA, the NHSC can deploy providers to help service the needs of that community. Approximately 10,200 providers serve more 11 million people who rely on the NHSC for their healthcare. Adequately targeting maternity care resources where they're needed most will result in healthier pregnancies and healthier babies.